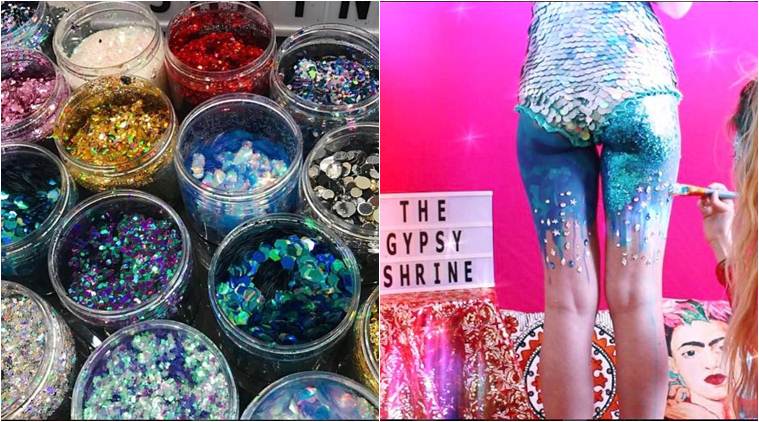 Summer is almost here and people are all set to head to the beach and relax. With sexy swimsuit and fruity mocktails (or even cocktails for that matter), sandy beaches are the only thing we look forward to in the scorching heat of summers. So, to make it even better, few fashion enthusiasts have added glitz and glam to the sandy experience at the beach.
Taking body glitter trend to a whole new level, sparkle buffs have started a bizarre trend of wearing glittery on their butt! Yes, you read it right. Fashion enthusiasts have given a shimmery twist to the phrase 'sandy-butt' and are smearing glitters on their bottoms. And, as wacky as this may sound, this could certainly be the next big summer thing, as it has already started attracting a great fan-base on Instagram.
So, after glittery eyes, lips and face, apparently it's time to up your game and glitter your derrière.
Self-proclaimed 'glitter creature' — artist and photographer Mia Kennington who is also part of a glitter cult called 'The Gypsy Shrine' can be attributed to the quirky trend. The UK-based glitter squad who travel around the world and spread their glitter-love by smearing colourful shimmers on customers at various events, festivals, pop-up shops, and parties have started the campaign on Instagram. The stunning group recently added "glitter-butts" to its services after a trip to the Beyond Sahara festival in Morocco.
According to a report by the Cosmopolitan, Kennington elaborated how the crazy idea dawned on her. "It was a hectic day because we were glittering up everybody and also had to get content for our website. So [artist Sophia Moreno and I] just had to spark off ideas in a span of, like, 20 minutes. We were in bikinis and were getting sand all over our butts anyway, so we were like, 'Well, what if we enhance this?' So we just did loads and loads of glitter."
And for those who can't invite them to their parties or get it done by these experts, they have even shared various tutorials as to how one can get 'mermaid tails' or 'rainbow booty'.